Summer is probably the best business season for moving companies because most of the transfer and promotion happens in summer. But, did you know that when moving companies are too occupied, and they have plenty of service enquiries, they may end up charging more for the job? Well, yes that's true.
Compared to that, moving companies are not that busy in the winter season, and hence they may offer better bargains and moving deals. But due to extreme cold, chilly winds and unexpected snow falls, winter relocation can easily go wrong, especially when you are not prepared.
If you are planning to relocate your house this winter season, then this is a post worth checking. Today in this post, I am sharing a few of the best winter relocation tips that will help you in planning and preparing your winter move the right way.
A winter move is all about proper planning. So, you just have to have a perfect relocation plan, and take precautions to overcome the harsh winter weather conditions and relocate safely.
Listed below are a few of the best winter relocation tips to make your move this winter safe, secure and hassle-free.
So, are you ready?
I heard you saying yes, so let's get started.
Plan your move well in advance
Irrespective of the season you are moving in, planning your move in advance can be of great help. And when you plan to relocate in winter season, it becomes even more important.
When you have time, you can plan and think of everything in detail and with a calm mind. You can take quotations from multiple moving companies, understand the fine print and then take an informed decision about hiring and scheduling your move.
However, when you are in hurry and reach out to the movers with urgency, you may not get the opportunity to consider alternate offers and options. Moving may not go really well when you are in a hurry, so plan your winter move well ahead of the actual move day.
Compare multiple moving companies
One of the best advantages of moving in winter is that you can easily find the best of the moving companies. Needless to say, when you have multiple options on the table, you can negotiate better, and hire a moving company that is most reliable, efficient and competent with respect to overall packing quality and moving prices.
Be flexible with moving dates
If you are staying at a place where weather in winter is very unpredictable then you must consider alternate dates for moving. Because, if there are extreme snow falls on a particular date that you had scheduled for moving, then you may not be able to do the moving on that date. Hence it is better to keep alternate move dates in mind.
Weatherproof packing
Moving companies generally offer different types of packing, including weatherproof packing options. If you are moving to or from a place where weather is unpredictable with a chance of extreme snowfall or heavy rain, then you should opt for weather proof packing options, even if it costs you a little more.
Weatherproof packaging can be crucial for moving in winter season, especially for electronic home appliances. In fact, you should personally supervise and ensure that all the smaller electronic appliances and gadgets are packed properly using poly bags and bubble wrap, and then stacked in a weather proof box.
Take the best route as per weather forecast
It is very important to plan the transportation route by considering the weather forecast for that day/week. While checking the best possible routes, you must consider the best available alternate routes. But, if you have to select just one route for moving in winter, then please go for the main and busiest route because in case of snow fall, the main roads will get cleared as a priority.
Prepare your car for the move
Before you start your journey, it is important that you do proper servicing of your car. In case of any damage or defects, make sure to get it repaired. You should also examine all the tyres and keep the spare tyre ready.
If you are driving your own car, then make sure to carry necessary winter supplies like an emergency first-aid kit, flashlights, gloves, hats, blankets, shovels, bottled water, cell phone chargers, windshield scrapers, snacks etc. to deal with any unplanned situation that you may face.
Since you are travelling in the cold weather, it is very important to take precautions to fight winter weather. So, wear warm clothes and take other precautions to fight the chilly winter winds. Also, carry an extra pair of warm clothes and shoes with you as you may require them in an emergency situation.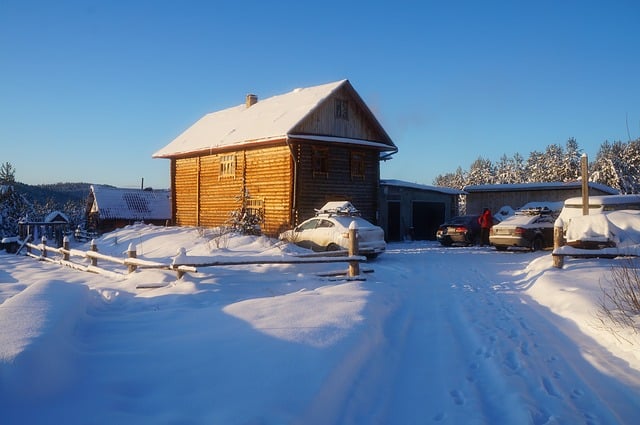 Start early
If you are planning to drive on your own, then it is best to start early in the morning. Days are going to be shorter in winter and so it may get dark early. It won't be safe to travel on ice and snow in the dark. So, it's better to start early and reach your destination before it gets dark. And if the drive is long, then you may take a break in between and then start the journey, early next day.
Make your new home winter ready
Now, as you are moving to a new home in winter, it is important to make your new home winter ready. If your new home is not made ready for comfortable living in winter seasons, then you may have to face a lot of discomfort in getting settled in your new home
But how do you make your home comfortable for living in winter?
It's easy. To begin with, get an electrician and ask him to inspect the house and check if all the electrical appliances are working properly, and especially and heating or hot water systems that run off electricity. Also ensure that the house is properly insulated to keep the environment inside the house warmer and if there is any leakage or insulation issue, get it fixed and sorted.
Conclusion
Even if summer is the most favored season for moving and relocating to a new city and state, choosing to move in winter can be beneficial. Since the winter season is not so popular for domestic relocating, you get tons of moving companies who are even happy to offer special discounts on winter moving services.
But, if you are planning to relocate in winter, then you must plan and prepare for you move the right way. With a little bit of precaution and early planning you will be able to relocate all your goods and family much more safely and without any hassle.
I have already shared a few of the best tips on how to plan and prepare for winter moving and if you plan your move keeping these smaller things in mind, you will be able to relocate this winter without hassle.
What else do you think one should do to make winter relocation safe and convenient? Let us know in the comments…
—
Author Bio
Jay N Prasad is a senior move consultant and marketing manager at Servicesutra Media Pvt. Ltd. Kolkata, India. He has years of experience in working with moving and storage companies in India. He often shares useful tips on packing, moving and storage on servicesutra blog.